---
Posted by JDB Agency on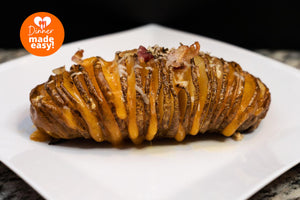 We can never go wrong with potatoes... It's one of the most versatile things to prepare with an always tasty end.This recipe's not a different one, its delicious, easy, and will surprise anyone who comes to it eat. Its also the best companion of any great steak, bbq in general, and more. Let me show you how to do it and if you do it at home do not forget to tag your favorite Supermarket, Ling & sons, and me. Yield: 5 serves
Course: Side
Cuisine: American
Prep time: 15 min
Cook time: 1 hour
Author: Haisa Avila @Redbeyondfood
Photo credit: Orange Media Ingredients:
6 potatoes
1/4 cup...