---
Posted by Ling & Sons Food Market on
Serves: 20 piecesPrep Time: 15 minOven time: 12 min  Ingredients 125 gr unsalted butter (cold) 450 gr self-raising flour 2 teaspoon baking powder 50 gr icing sugar 1 pinch of salt 150 ml buttermilk Method Preheat the oven to 220 C Cut the butter into cubes Mix the flour, baking powder, icing sugar and salt in a bowl Add the butter and mix with your fingertips until a coarse dough is formed Add the buttermilk and knead briefly into a cohesive dough. Optionally add an extra tablespoon of buttermilk if the dough is still a bit too dry Dust the...
---
Posted by Ling & Sons Food Market on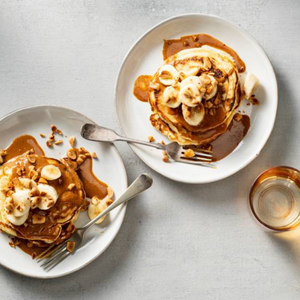 Yield: 4 servings Course: Breakfast/Brunch/Dessert Prep time: 25 min  Ingredients: 300 gr American Pancakes Mix 300 gr Semi-Skimmed Milk 2 Eggs 2 tbsp Sunflower Oil 50 gr Unsalted Peanuts 2 Banana 25 gr Unsalted Butter 100 gr Peanut Butter 1 tbsp Honey Method: Prepare the pancakes with the eggs, milk and oil according to the instructions on the package Chop the peanuts coarsely and roast in a pan without oil or butter for 3 minutes over medium heat. Meanwhile, cut the bananas into slices Melt the butter in a saucepan over medium heat. Put the peanut butter and honey in...
---
Posted by Ling & Sons Food Market on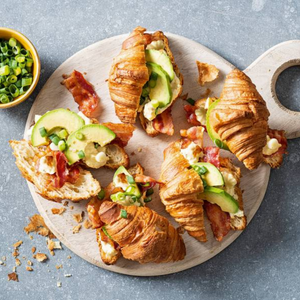 Yield: 4 servingsCourse: Breakfast/BrunchPrep time: 10 minOven time: 5 min Ingredients: 8 Croissant 100 gr bacon 1 Avocado (ripe) 1 Green Onion 175 gr Egg Salad Method: Preheat the oven to 200°C. Place the croissants on a rack and bake for about 5 min in the oven. Meanwhile, in a frying pan fry the bacon without using any oil or butter for about 5 min or until crispy. Place the bacon on a kitchen towel and let them drain.  Cut the avocado lengthwise and remove the seed. Scoop out the avocado and slice it. Cut the green onion into thin rings...